U.S. Election Results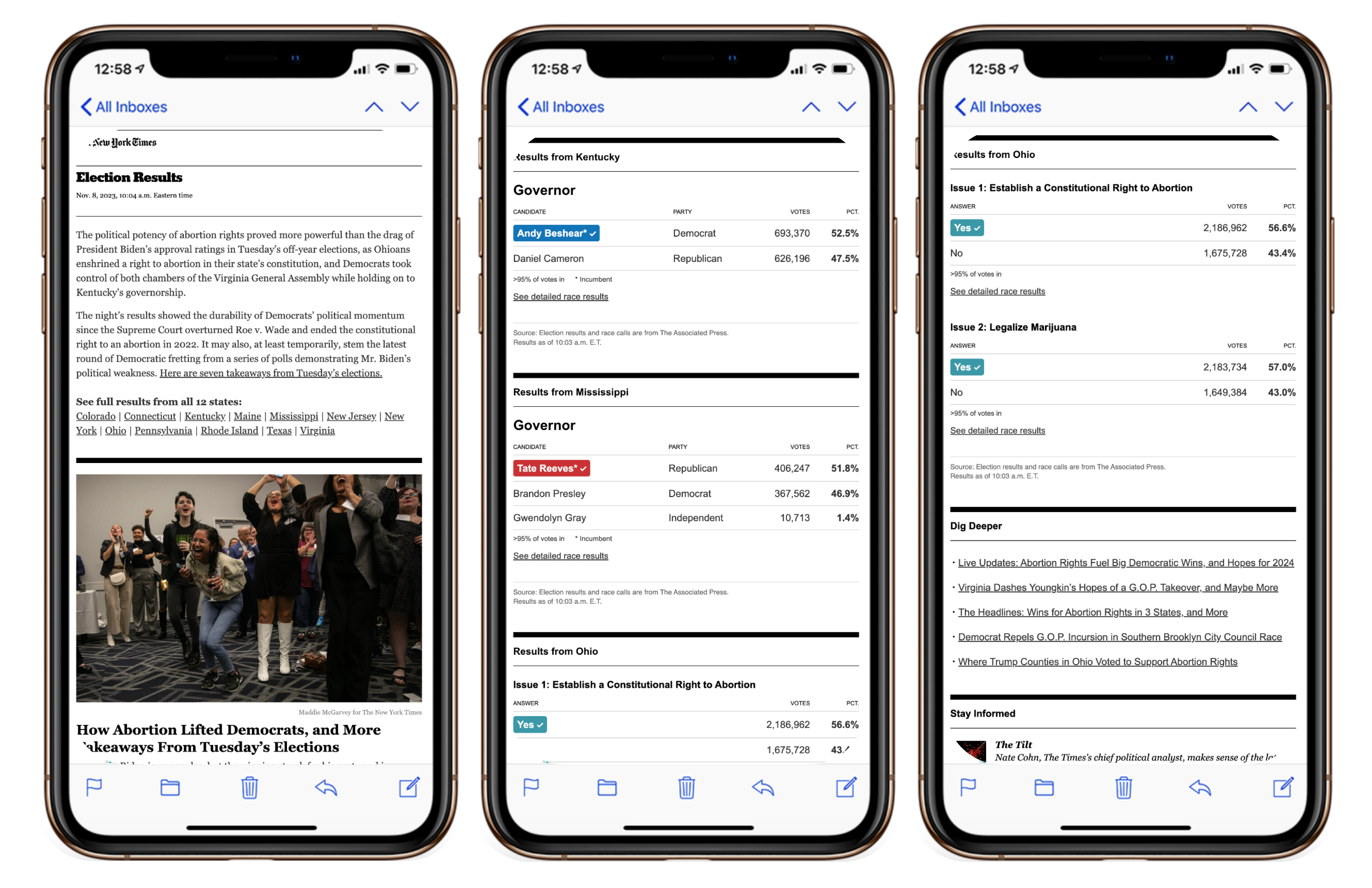 Election results pages
Michael Andre, Aliza Aufrichtig, Kristen Bayrakdarian, Neil Berg, Matthew Bloch, Véronique Brossier, Irineo Cabreros, Sean Catangui, Andrew Chavez, Nate Cohn, Lindsey Rogers Cook, Alastair Coote, Annie Daniel, Saurabh Datar, Avery Dews, Asmaa Elkeurti, Tiffany Fehr, Andrew Fischer, Lazaro Gamio, Martín González Gómez, Will Houp, Jon Huang, Samuel Jacoby, Jason Kao, Josh Katz, Aaron Krolik, Jasmine C. Lee, Vivian Li, Rebecca Lieberman, Ilana Marcus, Alicia Parlapiano, Jaymin Patel, Marcus Payadue, Matt Ruby, Rachel Shorey, Charlie Smart, Umi Syam, Jaime Tanner, James Thomas, Urvashi Uberoy, Ege Uz, Isaac White and Christine Zhang.
Reporting
Grace Ashford, Maggie Astor, Michael C. Bender, Sarah Borell, Sarah Cahalan, Emily Cochrane, Nick Corasaniti, Jill Cowan, Catie Edmondson, Reid J. Epstein, Nicholas Fandos, Lalena Fisher, Trip Gabriel, Katie Glueck, J. David Goodman, Blake Hounshell, Shawn Hubler, Annie Karni, Maya King, Stephanie Lai, Lisa Lerer, Jonathan Martin, Patricia Mazzei, Alyce McFadden, Jennifer Medina, Azi Paybarah, Mitch Smith, Tracey Tully, Jazmine Ulloa, Neil Vigdor and Jonathan Weisman; production by Andy Chen, Amanda Cordero, Alex Garces, Chris Kahley, Laura Kaltman, Andrew Rodriguez and Jessica White; editing by Wilson Andrews, Kenan Davis, William P. Davis, Kennedy Elliott, Amy Hughes, Ben Koski, Allison McCartney and Karen Workman.
Email Graphics, Engineering, Design & Production
Jared Ellison,Mimi Fang,Joey Lee,Maya Neria,Sarah Klein,Eric Rabinowitz,Hana Suhail,Matthias Gattermeier andBrian Foshee
---
Starting in November of 2022, my team at the New York Times started contributing to the U.S. elections coverage. As part of the effort, we developed custom graphics to be embedded in email newsletters that readers could receive in their inbox.
The graphics were used in a variety of ways to reach Times readers. First, readers could sign up for the Election Results newsletter which would notify subscribers about upcoming key races and the results of those races. Second, readers could receive specific state-specific election results based on their geography.
To make this happen, we collaborated with a big group of dedicated graphics editors, designers, product managers, and engineers and leveraged a whole suite of internal tools from across the organization. We stayed up late into the night watching the results state-by-state and waited for NYT editors to accept the election results as they were being called. After each call, we generated our graphics and sent those election results to our readers.
---
→ Signup for the NYTimes Election Results Newsletter
→ Keep up to date with U.S. Election Results - Nov 8 2022, Nov 7 2023
---